Everyone gets hurt. More often than not these injuries are minor – a stubbed toe, a bruise, a bump, or a small cut. Many of these injuries aren't life-threatening or even things to be overly worried about. But without proper care, even the most minor scrape or bruise could cause more serious issues down the road.
So while we can't expect to go through life without a single injury, we can be better prepared to treat those everyday minor injuries at home. The first step is preparation and knowledge of what to do in these situations. The best place to start? A well-stocked first aid kit.
What is first aid?
Before getting too far into the preparation process, it's a good idea to start with a definition. People often use the term "first aid," but it's not always clear what that does, or does not, include.
The term "first aid" is often used in two different ways. The first often means treating minor injuries without a medical professional. People apply first aid measures for young children who fall and scrape their knees. The treatment for these minor injuries helps the healing process and protects against common types of infections.
The second use of "first aid" is used for treating more serious injuries until medical professionals can be reached. First aid is often performed in cases of broken bones and deep cuts as a way to protect the injured person until they can be treated effectively.
First aid is an important part of medical care or treatment. Regardless of how serious the injury is, providing quick treatment to an injury as soon as possible is the best practice.
How often is first aid needed at home (including having one in your car)?
What can you treat at home/what do you use a first aid kit for?
Your At-Home First Aid Kit
Every family should be prepared with an up-to-date and fully stocked first aid kit. While each family may have more personalized needs – prescription medications or emergency allergy treatments – there are established guidelines for every family's first aid kit.
The list of basic supplies is what is needed for most injuries – serious or minor. They can be purchased at any drug store and will come in handy in almost any emergency.
Dressing materials
Dressing materials are used to bandage and cover a scrape, cut, or gash. These materials will help stop light to moderate bleeding and will keep an injury protected from outside dirt or bacteria.
These materials can include:
adhesive tape
elastic wrap bandages or bandage strips
adhesive bandages (in various sizes and shapes)
roller gauze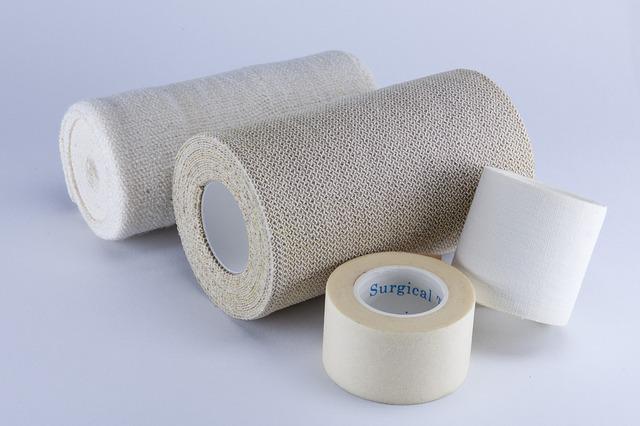 Ointments and Solutions
Your at-home first aid kit should also include a few over-the-counter ointments and solutions. These solutions help clean and disinfect cuts and scrapes as well as treat minor irritations or infections in affected areas.
Include items like:
antibiotic ointment
antiseptic solution and towelettes (consider hydrogen peroxide)
over-the-counter eyewash solution.
Tools
Every first aid kit should include assorted medical tools and devices to help deliver medications and treatments to an injury victim or keep the provider safe from possible infection or disease.
Include items like:
plastic bags (assorted sizes)

These bags can be used to safely dispose of materials with bodily fluids

safety pins (assorted sizes)

Safety pins are often used to secure dressings or bandages to larger injuries and wounds.

scissors and tweezers
thermometer
turkey baster or other bulb suction device

These devices help clean out wounds. This helps to both clean injuries and help treatments or dressings adhere to the injury more easily.

breathing barrier (surgical mask)
syringe, medicine cup, or spoon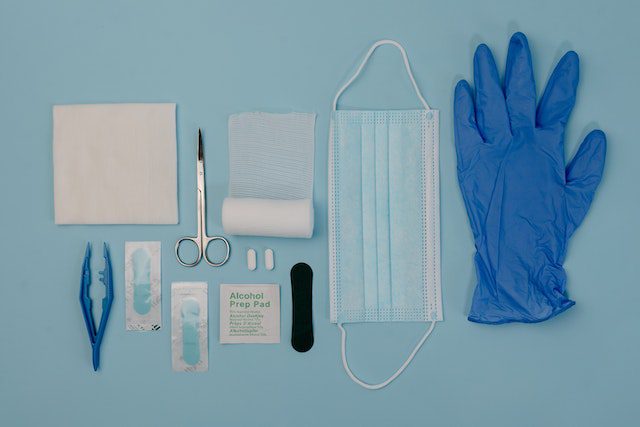 Medications
It's also a good idea to include some useful, over-the-counter medications in your first-aid kit. These medications can be used to treat a lot of different illnesses or injuries until trained medical professionals are available.
Look for medications to treat pain and fever, like Ibuprofen, Acetaminophen, and Aspirin. There are also medications for allergic reactions, like antihistamines, that can come in handy in emergencies.
Then there are the more situation-specific medications that can be included:
Imodium/Loperamide – to treat instances of diarrhea
Sudafed – to help relieve congestion
Throat lozenges – to soothe a sore throat
Bismuth tabs – to treat an upset stomach
Oral rehydration – to replenish liquids and fluids.
Cranberry extract – to treat minor bladder infections
Dramamine – to help alleviate motion sickness
Stool softener – to relieve instances of constipation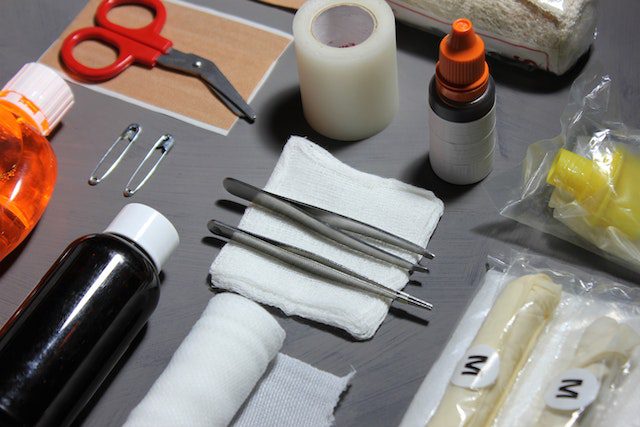 Miscellaneous Supplies
There are a few necessary supplies that don't fall under any of the previous categories. Each of these materials is needed in specific circumstances – a broken finger, a deep cut, or an infected/injured eye.
rubber tourniquet or 16 French catheter
eye shield or pad
aluminum finger splint
instant cold packs
cotton balls and cotton-tipped swabs
duct tape
petroleum jelly or other lubricants
Outside of those materials, two items are always needed in emergencies: a blanket and extra water. The blanket is needed to help comfort and warm an injured person. Often people who have suffered an injury can go into shock. A blanket can help if that happens.
Water is also vital and versatile. Cool, clean water can be used to minimize swelling in an injury or be used to clean out a wound before infection can set in and treatment can be applied. Without a supply of clean water, it can be difficult to provide adequate first aid care in many situations. SOS Food Lab Water Pouches are a perfect accompaniment to your first aid kits and emergency bags!
Safety and Information
It's also a good idea to include materials and tools to keep everyone safe. Every first aid kit should include hand sanitizer and disposable gloves to ensure all caring hands are clean and won't easily transmit any diseases, and a first aid manual that provides detailed information about common injuries or illnesses.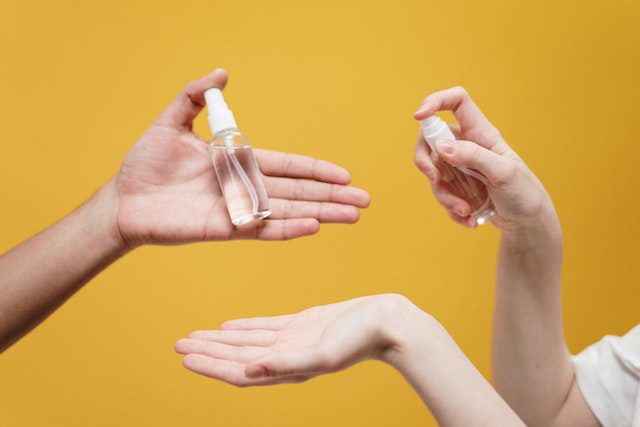 First aid kits can be life-saving in serious situations, but they are necessary almost every day for minor bumps and bruises. While these kits are great for your home, they can be just as important in your car. Emergencies arise anywhere at any time, so it's good to be prepared.