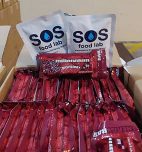 SOS Food Labs joins iHeart Media to donate needed items to the Miami Surfside rescue efforts
In keeping with our mission, SOS Food Lab is proud to support rescue and first responders.  We've joined other local area companies and donated cases of our products to the iHeart Media efforts to provide care packages for the Surfside Champlain Towers Rescue mission.
First responders have been working around the clock to support the efforts at the site and are in need of care packages with everything from foot powder, energy bars, cleansing wipes and snacks.
SOS Food Lab donated over 500 of our New Millennium Energy Bars and over 500 water pouches to support EMT's, police, firefighters, rescue and recovery workers in their work efforts.
Other participating companies include Winn Dixie and Pepsi Co. iHeart Media organized and bagged all of the items into care packages and delivered them on-site to the first responders on July 12, 2021.